Category
Features
Startup Profiles
Network Database
Matchmaking
Digital Events
News and Blog
E-Learning
Community Groups
Offers
Requests
Projects
Startup-Investor Matchmaking
Company Networking
Description
Welcome to our Digital Innovation Hub Community platform template, a powerhouse for digital innovation hubs. This one-stop solution allows you to streamline operations, enhance collaboration, and manage your community. With our no-code solution, you can create a unique digital platform tailored to your hub and community.
It's not just a platform— it's your central command for fostering innovation, connections, and collaboration. Transform your ecosystem with our customizable platform.

Which features does the template provide?
Unleash the potential of your digital innovation hub with our customizable template. This template is packed with features that cater to your hub's unique needs.
Here's what it brings to the table:
Connect the dots: Match your members automatically with our Startup-Investor or Company-Startup Matchmaking feature.
Foster partnerships: Ignite collaborations with our digital communication features.
Share knowledge: Enhance knowledge sharing within your hub with our e-learning tools.
Host digital events: Have an upcoming workshop or a conference? Make event management a breeze with our event tools.
But wait, there's more.
Our template provides a robust database for all your member and company profiles, projects as well as customizable user roles for tailored access, digital communication options and a full webpage builder.
It's all about keeping your hub connected and your data organized, no matter where you are.
And to top it all off, we've included analytics tools to measure community engagement, giving you the insights you need to drive your hub's success.
Who is this template for?
If you're involved in a digital innovation or startup hub and you're all about creating a vibrant ecosystem, our template is just the thing you need. It's designed to make life easier for:
Hub Managers
Ecosystem Managers
Project Managers
If you're steering the ship of a hub community, our template is your key to unlocking a more connected, collaborative, and innovative hub experience.
What are the benefits of using this template?
Imagine a hub that's buzzing with activity 24/7. A place where startups, companies, investors and researchers connect effortlessly. A platform that fosters collaboration and innovation, driving business growth and breakthroughs.
This is what our template brings to life.
Here's how it benefits you:
24/7 digital access to your community
Efficient matchmaking for startups, investors, companies or researchers - no excel tables needed
Easy to set up databases to organize your community members and organizations
Simple digital event management and e-learning tools
All in one tool that lets you customize it yourself, with 0 need for coding
Customers who've used this template
digitalHUB Aachen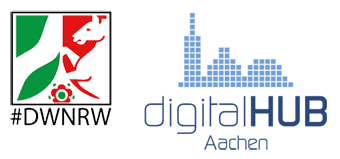 LifeScience Kraków

Enough talking. Start building!
Use template